"Take rest. A field that has rested gives a bountiful crop." - Ovid
Monday, September 5th is Labor Day ... a day to enjoy a well-deserved day off. Labor Day honors millions of hardworking Americans across the country. It is a day to pay tribute to the "greatest worker in the world" - YOU. However, it can be a day you do more than rest, a day to think about working smarter, not harder.
Why not start with your next building project? Why not start now?
While Labor Day may feel like the end of summer, it is the beginning of a great time of the year to build. Less humidity, cooler temperatures, and still plenty of natural daylight make fall construction more efficient and comfortable.
Fall is a great time to get your concrete in and ready for SIPs. SIPs are a great way to extend your building season into the winter.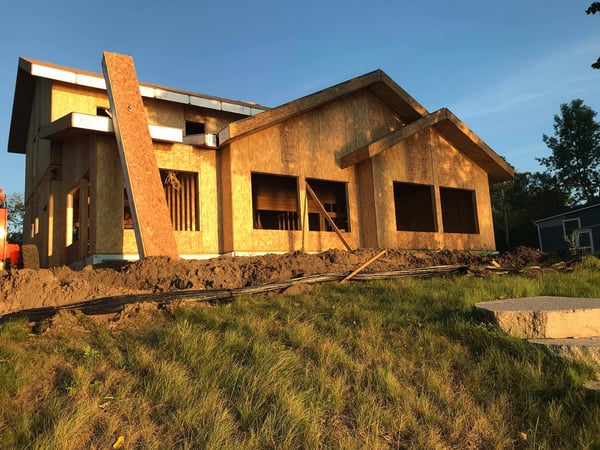 Since Structural Insulated Panels (SIPs) combine structural framing, insulation, and sheathing into one step, this system saves you many working hours and extends your building season. Besides that, SIPs offer other benefits which make it an efficient, effective way to build:
Seven Reasons YOU Should Be Building With SIPs
1. Faster construction—Structural insulated panels combine structural framing, insulation, and sheathing into one step. All Enercept window and door openings are factory built, complete with framing and headers. The fast enclosure system also extends your building season.

2. Less framing labor—Building with structural insulated panels requires less on-site labor, saving you money.
A BASF Corporation time and motion study conducted by the RS Means unit of Reed Construction Data shows that residential builders can reduce their framing labor needs by as much as 55 percent by using structural insulated panels (SIPs) instead of conventional "stick-building" methods.
3. Less job site waste—We've seen examples where the exterior framing waste of an Enercept home can be hauled off in a single 55-gallon container. So, instead of renting a roll-off container, you may be able to remove the waste in the bed of your pick-up.
4. Fewer framing errors—SIPs reduce the margin for framing errors. Each panel is numbered to correspond with a computerized CAD panel blueprint. With the Enercept 4′-wide panel system, all rough openings are cut and framed at the factory and include structural headers. Panels are built to the engineer's specs, taking the hassle and guesswork out of design and quality control on-site.
5. Increased demand for green, energy-efficient buildings/homes—SIPs meet this demand. More and more consumers are looking for high-performance building envelopes. Plus, building codes are calling for tighter envelopes.
6. Factory-built SIPs are built inside—This means there is less exposure to the elements during construction decreasing the risk of rot and mold. Because SIPs are prefabricated and save on overall construction time, you have the option of waiting for better weather.
7. Customer Satisfaction—SIPs offer increased structural stability and accuracy. Not only are the solid building blocks inherently sturdier, but they go up smoother and straighter and result in a structure that is truer to the blueprints. But, the main thing that draws homeowners to SIPs is their superior insulating qualities. A SIP house is insulated better than a framed one, plain and simple.

We can help you end the building season on a high note.
Getting your initial down payment to us now means you can be dried in and working comfortably indoors this winter.
Are you ready to learn more?