Why do builders and architects love building with SIPs?

One of the primary reasons builders and architects love building with Structural Insulated Panels (SIPs) is that they go up very fast and they go up very easy.
By using SIPs instead of a typical stick frame structure, you can reduce labor costs by up to 55 percent, reduce construction materials by up to two-thirds, and have fewer callbacks – all which help shorten construction completion schedules by weeks or even months.
So, how will building with SIPs save you time, money and labor?
The panels arrive at your job site ready to put up. SIPs require no sheathing or insulating on site.
Your panels arrive with precut door and windows precisely according to your designs.
The entire wall and roof assembly installs in sections with a uniform nailing surface for siding and trim. No need to cut multiple studs, joists and etc. in the field from stock lengths.
All the electrical chases are cut which means the electrician is in and out in rapid time.
The end result is a building that is stronger, cleaner, and built in much less time than traditional building methods. You'll be able to achieve an airtight building envelope which is fundamental for reducing heating and cooling energy consumption because of solid insulation throughout each panel. This results in a lifetime of savings on your heating and cooling costs.
Want more reasons that SIPs offer other benefits which make it a fast, efficient, and effective way to build?
Less job site waste: We've seen the exterior framing waste of an Enercept home hauled off in a single 55-gallon container. Instead of renting a roll-off container, you may be able to remove the waste in the bed of your pick-up.
Fewer framing errors: SIPs reduce the margin for framing errors. Panels are built to the architect's or engineer's specs in an indoor, climate-controlled environment — taking the hassle and guesswork out of design and quality control on-site.
Customer Satisfaction: SIPs offer increased structural stability and accuracy, plus energy efficiency — all wins for you and your client!
Imagine that: Finish more projects in less time, save money and know they will be enjoying the energy efficiency SIPs provide. They minimize heat loss/gain in a new structure, increase comfort, and save money in the long run.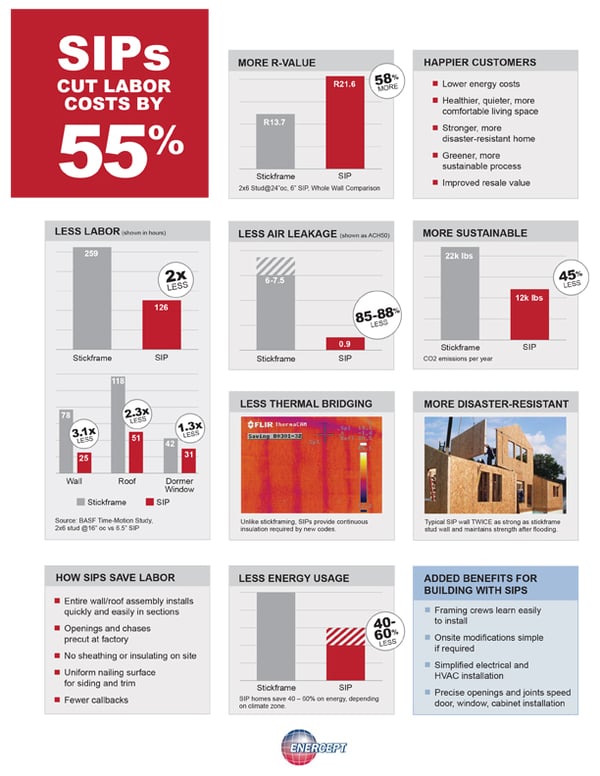 "Traditional" construction methods are changing. The way buildings are framed can make a huge difference in the amount of time, energy, labor costs, and environmental impact on your building project. All which lead to a significant value.
Our Mission: Our Commitment
When you build with Enercept SIPs we provide a building that will go up faster and will be warmer, tighter, stronger, quieter and more cost-effective than conventional construction. It is a commitment that others simply can't beat!