The challenges we face in light of the Corona Virus COVID-19 are impacting how we conduct business everywhere. Enercept is working hard to stay on top of the rapidly changing events.
From the on set of the virus entering South Dakota, Enercept President Charlie Ewalt, has been working closely with the Enercept Team planning and implementing changes to keep everyone safe, while providing product for our customers.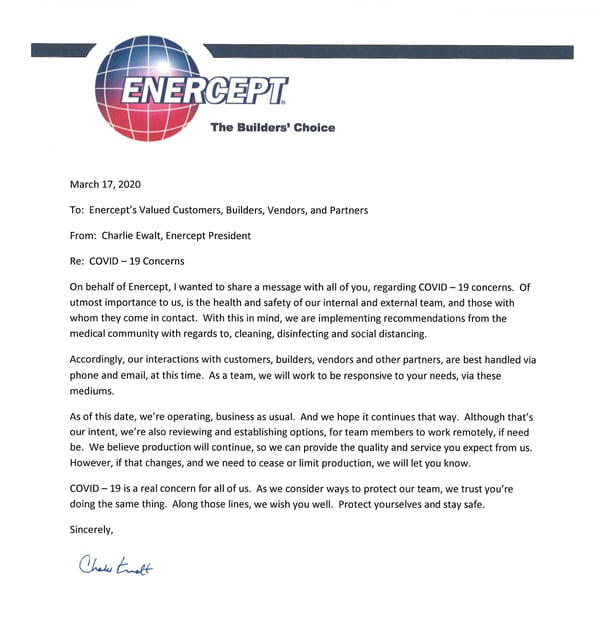 In just one short week, we have made IT preparations to enable several members of our team to work from home. This social distancing has reduced the number of in-house employees by ten, making it safer for those manning world headquarters in Watertown, and for those of us working from home.
But, know that Enercept is still open, producing & shipping panels, and for the most part, operating business as usual. Additional steps we have taken include:
We have closed our front office to visitors unless they make an appointment before visiting
Our production team is practicing safe-distancing, sanitizing tools after use, washing hands and using hand sanitizer as needed.
All employees have been informed that if they are uncomfortable coming to work, they are able to take time off and will be welcomed back when the crisis has past
We are monitoring the situation closely and will be making adjustments as needed.
During this pandemic, you may experience some time lag in response time. But rest assured, we are here and taking care of your SIP needs.
Home Show Cancellations
Without a doubt, this virus comes at a bad time for the building industry. Early spring is a key planning period for summer and fall construction.
Our team is available and ready to address your SIP questions, provide estimates, and assist you through the sales cycle via phone, email and other digital options.
Please reach out to your Enercept Regional Sales Manager, they are happy to help:
Social distancing will not stop the conversation around your next SIP project. Enercept is here for you!