Like all industries, the construction industry (and, in particular, SIP construction) seems to have its unique language. Some of the products and components we use and produce are unique. While those of us who work in the SIPs industry are familiar with the terms and acronyms, they may be new to you.
This SIP glossary will help you to be able to talk the talk and avoid possible misunderstandings.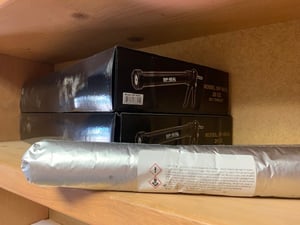 Acoustical Sealant: A tar-like substance compatible with polystyrene and OSB that retains flexibility for a long period of time used to minimize air leakage at panel seams and joints. With Enercept SIPs you will receive "sausage" tubes of sealant and special "SIP-seal" applicator gun. See photo to the right.
Adhesive: Any adhesive compatible with polystyrene.
Basement Panels: SIP panels constructed with a treated plywood exterior and treated 2x dimensional lumber on 12" or 16" centers. It is used in below-grade applications.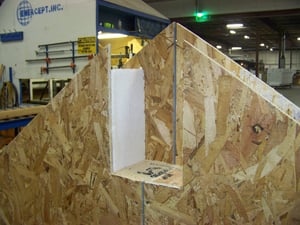 Beam Bracket: A T-shaped steel strap which fastens the king post to the center beam.
Beam Hangar: Welded steel bracket typically used to attach beams to other beams.
Beam Pocket: A factory-cut opening that holds the support beam in place.
Block & String Alignment: An accepted carpentry technique used to assure proper alignment. Spacer blocks hold taut string a given distance from the surface to be aligned. Serves as a reference point for measuring parallelism between line and surface.
Center Support Beam: A factory-constructed beam that supports the upper end of the roof panels over long, open spans.
Center Wall: Site-built wall used to support the upper end of the roof panels.
Chimney Collar: Doughnut-shaped metal flashings designed to fit the circumference of the chimney, and provide for a minimum 3" clearance between chimney and combustible structural members. Noncombustible insulation, e.g. vermiculite or rock wool, must be used to totally fill the 3" void before applying the upper collar.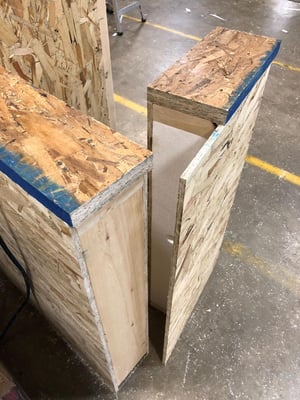 Corner Adjustment Panel: Panel which is designed to be more easily trimmed to compensate for any growth that may have occurred during erection of the wall panels. Sometimes referred to as a "fly-by corner."
Electrical Channels or Chases: Factory-located passageways at the edge of each panel, beside each opening, and 16" above the lower edge of wall panels used for electrical wiring. Electrical chases can be installed above counter top height in kitchens and bathrooms. Basement panels only contain vertical chases at the edge of each panel. Foundation panels do not contain electrical chases. For additional information, see Enercept Electrical Guide.
EPS: Expanded polystyrene, the insulating core of the Enercept components.
EPS Wedge: Roof to wall angled EPS foam wedge placed on top of wall where the roof meets the top of the sidewall to insulate wedge shaped space.
Foam Sealant Insulation: Commercially available polyurethane foam packaged in aerosol cans. Used for filling voids around windows and door openings, exterior electrical passages, and roof-to-wall area.
Growth:Joint spacing can slightly effect the exact measurements of panels. Therefore,
finished lengths of SIP walls or roofs can vary slightly. Installation crews must check center line measurements. Unchecked growth can slightly change rough opening locations. Management of growth in gable walls is critical since beam pocket
location is very important.
Insulated Post: A patented thermally insulated connecting spline ( or post) made from (2) 2x members and EPS, which is used to easily join panels together.
Left: Direction as viewed from the interior of the home.
Lintel: A narrow panel positioned above a window or door opening.
LVL: Laminated Veneered Lumber, 2x type material manufactured similarly to plywood. Stronger than traditional 2Xs.
OSB: Oriented Strand Board. A composite wood-based panel made from new-growth timber. The strands are oriented or arranged so maximum strength is achieved in any given direction when combined with adhesives to produce greater tension and compression performance.
Overhang: The part of the roof extending past the exterior wall.
Plate: Dimensional lumber, usually 2x6, installed in the top, bottom, and edges of the Enercept Panels.
Plumb: Perpendicular to the horizon. At a right angle to the level floor.
Right: Direction as viewed from the interior of the home.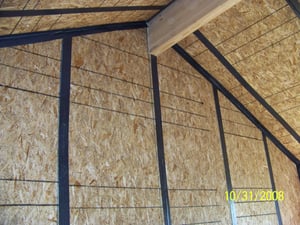 SIP Seam Tape: An adhesive tape designed to be applied to the interior seams of exterior wall and roof SIPs. The purpose is to minimize moist interior air from escaping through panel seams.
Sill Plate: Dimensional lumber, usually 2x6, which is nailed to the subfloor and deck.
SIP: Structural Insulated Panel. A manufactured, high performance building system for all types of construction. Used to form the exterior shell of a building.
Now, you are ready to talk SIPs to me!
WANT TO LEARN MORE: