The best way to top off your home is with a SIP roof.
A SIP roof system provides superior insulation and durability. Enercept Ready To Assemble roof panels are pre-cut to your specifications, eliminating concerns about cutting. With Enercept, compound angles are no problem.
1. Options
En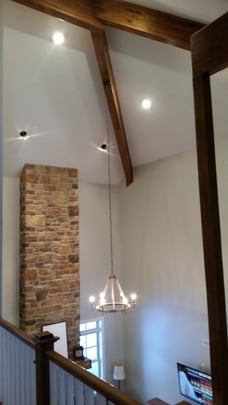 ercept's structural roof system gives you options.
Since the SIP roof panels replace trusses in your building, you have more space to work with. You can utilize that space to create a loft area, a second story, or a conditioned attic space.
Or mix and match how your bonus space is used. Enjoy the open feel of a vaulted ceiling in your great room. Meanwhile, use a conditioned attic space over your kitchen for a convenient storage area that is also comfortable. On the other side of the great room, utilize a loft space for your personal office area.
You may even want to leave the bonus space unfinished but ready for future use as your family grows.
With a SIP roof, you can take advantage of every square foot in your home.
2. Faster to install
A SIP roof system is installed more quickly that truss framing.
Instead of setting trusses, adding the exterior sheathing, and finally insulating your attic - everything is completed in fewer steps. You will still need some support in the form of a ridge beam or rafters, but they will be spaced further apart and will take less time to install.
Plus, with the Enercept roof system, wiring chases can be installed at the factory ready to be wired on site.
SIPs can be made to a maximum of 8-feet wide and 24-feet long. A panel this large can cover a lot of area quickly.
3. Energy Efficient
A panel thickness of 10" yields an "R" value of 38. But, that is just part of the story, SIPs are also airtight and virtually eliminate drafts and cold spots. The superior insulating quality of your SIP roof will keep you warmer in the winter and cooler in the summer.
The bottom line, you will save money on utilities each and every month you are in your SIP home.
4. Strength and Durability
The I-beam strength of structural insulated panels provides durability that is unmatched by a standard truss-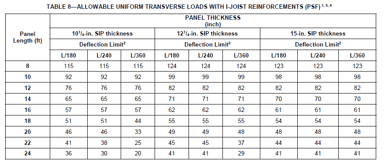 built roof system.
Are you worried about snow? Don't be. A SIP roof can withstand snow loads up to 260 pounds per square foot!
Feel secure knowing you are living in a structure that is 2 1/2 times stronger than stud framed construction.
5. Environmentally Friendly
Structural Insulated Panels are the Environmentally Friendly Building System. SIPs are made with OSB produced from fast-growing, under utilized, and less expensive trees grown on tree farms.
SIPs use less lumber than stud wall construction. Plus finished product is airtight & energy efficient.