Structural Insulated Panels: Better Building You Can Take to The Bank
When you factor in material cost, labor expense, and job site waste with the benefit of a lifetime of energy savings, the Enercept system is a lower cost building solution.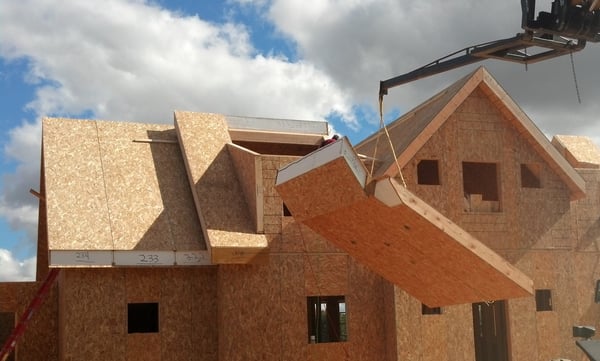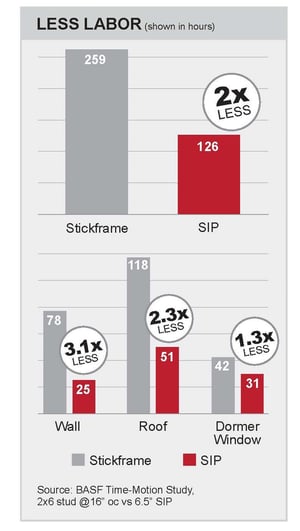 SIPs Cut Labor Costs by 55%
When you build with Structural Insulated Panels, the first savings you will notice is the break in labor costs. Building with SIP panels takes half the time as stick-framing. Why? Because when you build with Structural Insulated Panels you are framing, insulating and sheathing in one easy step. Plus, the door and window openings are pre-cut at the factory - once you assemble the panels the openings are bucked out and ready for your door and window installation. We also burn all the wire chases in the wall and roof panels so your electrician can wire your home more efficiently. The uniform nailing surface on the interior and exterior walls, make siding, trim and drywall installs happen quickly and easily.
SIPs Are a High Performance Building Product
With Structural Insulated Panels you will lower your energy use. You will save 40-60% on annual heating and cooling costs. There will be less thermal bridging and no cold spots on your walls. Your home will be more comfortable, quieter and healthier. Why? Because of the air-tight environment a SIP system provides.
Practical Pricing
With Enercept SIPs systems, the package can include the wall panels, roof panels, bottom plate material, top plate material, Glu-Lam Center Beam, seam tape, panel sealant for the joints and Tyvek™ house wrap. It also includes all rough openings for windows and doors – cut in, completely framed, and completely headered. (Enercept is the one of the only SIPS company in the industry that does this level of fit and finish and it will save you considerable time!)
The price of lumber
Lumber prices are on the rise, and availability is tightening. Because SIP construction uses less framing lumber, it makes sense to make the switch.
Structural Insulated Panels have not had a significant price increase. SIPs are now more competitive than ever in the building industry.