We often talk about how warm and cozy SIPs structures are, but what about when things really heat up? Fire safety is an important — and perhaps life-saving — consideration when building any structure.

According to the U.S. Fire Administration, there were more than 1.3 million fires in 2017, resulting in 3,400 deaths, over 14,000 injuries and $23 billion in property loss — quite significant (and frightening!) numbers.

So, how do SIPs buildings fare with fire? Homes built with structural insulated panels (SIPs) provide occupants with protection similar to that of a conventional wood frame construction.

Fire precautions for SIP homes include:
Application of a 15-minute fire-resistant thermal barrier on the interior (like 1/2-inch gypsum board)
Properly installed electrical systems and appliances
Properly installed natural gas appliances
Smoke alarms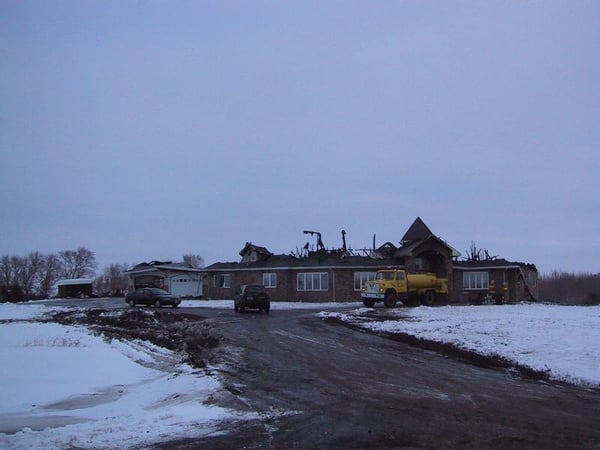 The house fire pictured above shows a home which was built with SIPs walls and a conventionally stick-framed roof. Note, the walls remained standing while the roof ignited, burned and collapsed. (Fortunately, nobody was injured in the blaze.)
Stopping the spread of a fire is key in fighting it. Because SIPs are made with a solid core of expanded polystyrene (EPS), there is no chimney effect in the walls as found in a stick-built structure. Further, EPS will not maintain a flame on its own.
For more information, check out our SIPA Listing Report for full details.
Meanwhile, please stay safe with these tips:
Be sure you have a smoke alarm on every story of your home (replace them every 10 years)
Develop a fire escape plan and practice it
Purchase a multi-use fire ladder for each upper level bedroom in your home and practice using them
Place fire extinguishers within reach throughout your home
In the event of a fire, leave through the closest exit. Do not stop to collect belongings and never re-enter a home once safely outside.
Additional fire safety tips are available at nfpa.org.