How long will it take for the temperature in your home or business to drop when the power goes off? With SIP construction, you may stay warmer, longer.
February 2021's extreme weather reminded us how vulnerable we are to electrical power, especially when the outdoor temperatures drop. We also became all too familiar with the phrase "rolling blackouts."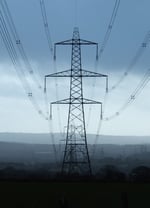 Did you know that one of the added benefits of building with SIPs is heat retention? The ability of a building to maintain a comfortable temp over longer periods of time.
There are a couple of reasons for this.
The continuous envelope of insulation, with fewer thermal breaks
The air-tight performance quality of SIP construction
Being in a SIP structure is like being in a giant cooler.
I first learned of Enercept and SIP construction in the early 1980's when Enercept had a SIP home on display at the South Dakota State Fair.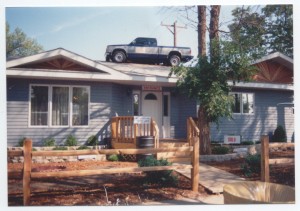 SIPs were green before green was cool!
I was at first fascinated by the truck on the roof - demonstrating the superior strength of SIP construction. Then, as I toured the model home, the salespeople were touting the energy efficiency - something to the effect that you could heat your home with a light bulb and cool it with an ice cube. We realize that is quite an exaggeration, but useful in conveying the energy savings potential of building with SIPs.
Will a SIP building maintain an inside temperature longer than a stick-framed home?
See what our customers had to say:
John and Ruth Dahlman, Evanston, WY
"Boy! Are we glad that we built an Enercept House! We had a blizzard in January [1997] with a wind chill factor of 50 degrees below zero, and our Enercept house stayed a comfortable 72 degrees. Most houses could not maintain a temperature over 60 degrees with the furnace running all the time. We are very pleased with how solid, quiet, and warm the house is."
Kim Bauman, Lake Norden, SD
"I built my home the summer of 1995. We started construction of our home in June. We have a total living space of 1,900 square feet.
It was incredible how fast it went together. It took approximately one day to put the first floor together and another one and a half days to put the second floor together.
I cannot imagine any other way to build. There was another new home going up at the same time as ours – only they went stick built. We moved into our house a month before they moved into theirs.
In late October, we had a blizzard and a strong north wind that knocked the electricity off for nine hours. During that time, we could not feel any drafts, and our home stayed warm. It was able to retain the heat within."
Linda Andera, Watertown, SD
"During the winter, our furnace went out at night. By morning, the temperature had dropped only two or three degrees; the outside temperature at zero! We started a fire in the fireplace in the morning, and it brought the temperature right back up to 72 degrees, and kept it there all day. I am really pleased at the way our home is insulated; that even a zero temperature outside and no heat inside, can still keep us warm."
Do you have questions about SIP construction? Learn more here: