The ideal location for your project might be a crowded city neighborhood, in the middle of the woods, a hillside in a rocky forest or simply an extremely remote location, like the South Pole (below.) It's perfect for your new building but maybe not so perfect — or practical — for your contractor.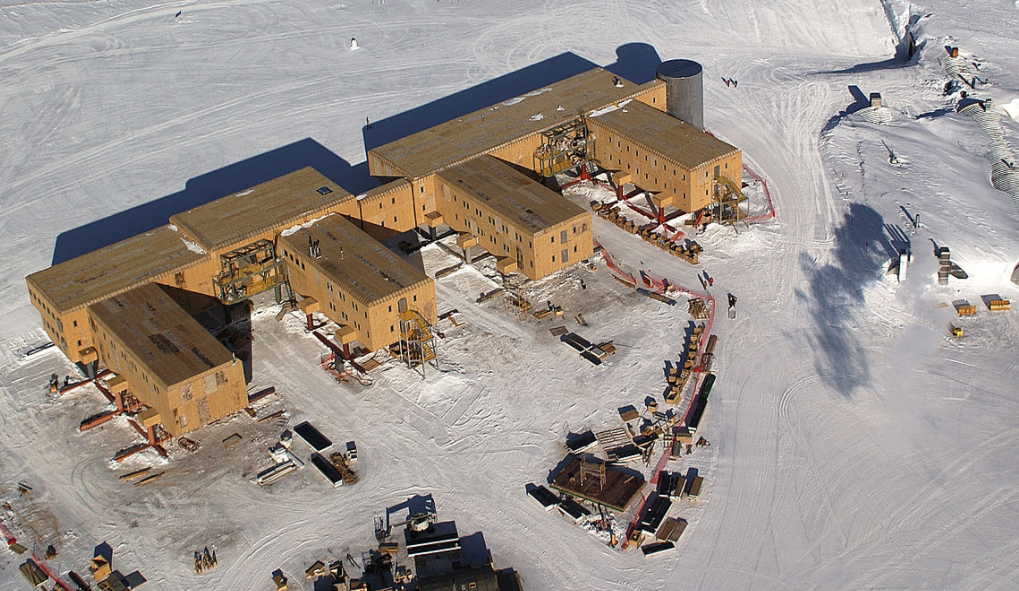 At Enercept, we've successfully sent panels to many challenging locations: Greenland, an island community in Lake Superior and yes, even Antarctica. As one might imagine, those were no small tasks.
Our contractors often must be a bit resourceful in getting materials — SIPs or otherwise — where they're needed.
Neal Mack, Senior Regional Sales Manager for Enercept, recalls a project he worked on with Ben Miller of Blue Ox Timber Frames — a beautiful mountain retreat near Golden, Colorado. The road to the site was full of hairpin turns and switchbacks, and the home was situated high among the rocky hillside.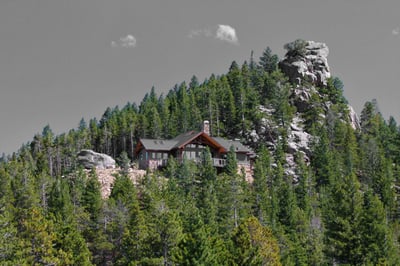 "It was scary," Mack said. "I was there when they just had the deck on. The steel frame was cantilevered out and I as looking out at 100-foot pine trees. If you fell from there, it'd be a good 200 feet."
Fortunately, there was a clearing near the house to stage the panels. That can be an issue in tight quarters and especially in densely-populated metropolitan areas. Storing and staging materials needs to be considered.
With SIPs, builders need only be concerned with one load or batch of materials for framing.
"There are different challenges when using SIPs. So, when you face that challenge on a hill or whatever, you have to overcome it. But once you've met that challenge once, it's done. You only have to do it once. That's one of the advantages," says Josh Barber of JBar Construction. "You're not carrying one 2 x 6 at a time. Maybe we bring a crane or a boom truck in, but you set your panels and you move on. I haven't found a challenge we haven't been able to handle. You just have to be creative."
A recent JBar project posed the demands of being tucked in among the trees and down a gravel road in southeastern South Dakota. Rainy conditions added to the challenge for this 'tree house' — a getaway cabin high among the trees where wildlife and peace and quiet are abundant. For that project, the JBar crew chose to put the panels all together and then put them in place with a piece ofmachinery, using it much like a jumbo panel.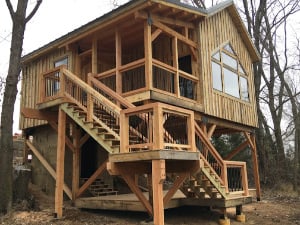 "With SIPs, being able to build a whole wall at the same time, you are minimizing that challenge," Barber says, adding the headache of getting everything in place is "over after one trip instead of three."
In very remote locations, necessities like concrete and skilled labor may be hard to come by. For the latter, being able to keep the construction time short means you're more likely to find crews willing to take on the task. Such was the case with several recent Enercept projects. Workers were able to stay nearby for the short time it took to dry-in the structures.
For those not-so-ideal spots, SIPs can save you time, money and aggravation — all terrific solutions for challenges facing both contractors and their clients — and keeping that "perfect" location within reach.