How Could Building With Enercept Structural Insulated Panels (SIPs) Save You Mortgage Interest?
Did you miss out on the record low mortgage interest rates of 2020 and 2021? For one reason or the other, many of us did.
When you look at historical data, the 30 year mortgage rate in the United States averaged 7.74% from 1971 until 2023. Some of us are old enough to remember the all time high of 18.45% in October 1981. Having purchased our first home in the spring of 1981, securing an adjustable rate mortgage (ARM) around 14%, we were thrilled to refinance in the early 90's at 8.25%.
Even though current interest rates are below the 50 year average, rates over 6% seem astronomical. With rates this high, how can we afford to build or buy a home?
Why not offset your mortgage payment with lower energy costs?
Enercept SIPs offer superior insulation with solid core, expanded polystyrene (EPS) foam that is laminated between two sheets of oriented strand board (OSB). This combination yields a proven 40% to 60% energy cost savings.
Check out this example:
With the cooperation of two neighbors, Enercept was able to perform a side-by-side comparison of two similar homes in Watertown, SD.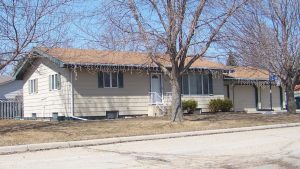 The house pictured here is an Enercept house; the other house, also a single-story ranch was conventionally framed and insulated with fiberglass insulation.
Both were modest in size, with about 1,000 square feet of conditioned space.
Both were heated with Natural Gas and were in the same neighborhood.
Based on 1983 Watertown Municipal Utility receipts, the annual expense for Natural Gas in the Enercept home was $273.46; the stick frame home was $573.04. A savings of over 50%! Obviously, Natural Gas prices are significantly higher today - but imagine saving 50% on your current gas bill!
If you built an Enercept home and applied this savings to your mortgage balance every year, you could pay your home off early, saving thousands in mortgage interest.
If you simply reaped the savings - you would have additional cash to offset today's higher interest rates.
Isn't saving money fun?