Enercept designs custom Structural Insulated Panels (SIPs)
to exactly fit your timber frame.
The custom SIP dimensions are taken right from the architectural plans and Enercept's drafting team customizes each one to precise sizes. The tailor-made EPS foam cores are relieved for spline connections and top and bottom plates. Dimensional lumber is factory installed by Enercept around window and door cut-outs, wall corners and roof perimeters. Wire chases are built into the panels at 16" and 44" above the floor, along with vertical chases beside each door and window opening in addition to 4' centers. All cut-outs and other scrap is recycled at the factory to eliminate site waste and disposal.
The hand-crafted timbers are works of art. And, not only do they look great, they are also structurally sound.
Insulation plays a key role within the building envelope.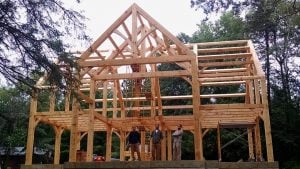 Whether you're building a full timber frame or a hybrid (partial timber frame), enclosing timber frames with SIPs is the perfect fit for your project. Our SIPs are high-performance building panels made with an expanded polystyrene (EPS) rigid foam core sandwiched between two structural skins of oriented strand board (OSB.)Enercept SIPs can be used for floors, walls and roofs. Enercept's standard 6" wall panel has an R-24.87
value and we additionally offer R-40 or R-50 panels for your roof. While those are our standard sizesach and every panel is custom manufactured to fit on your timber frame. Each panel comes with our standard features including:
Enercept installs electrical chases at the factory and has developed an easy to follow electrical guide for your electrician.
Enercept factory-installs electrical wiring in our SIP roof panels (when allowed by local code).
Enercept's unique 4-foot line panel press can accommodate panel core thickness from 1″ to 16″.
Enercept is known in the SIP industry for our ability to produce panels for even the most difficult designs. We employ an experienced drafting team to assist you with SIP design questions.
Enercept can provide an on-site training technician for first-time builders to ensure quality construction and minimize the learning curve. A detailed Construction Guide, Electrical Guide and durable panel layouts are issued with every project.
All of these unique features will save you money when it comes to the cost of finishing your timber frame home. From concept to completion, Enercept will provide you the best panel wrap for your timber frame home.
Enercept Structural Insulated Panels are the superior way to enclose your timbers:
Panels attach to the outside of the timbers, so the full beauty of the timbers is displayed inside
They provide a tight, super-insulated enclosure that will protect your timbers, and save you 40% or more on annual heating and cooling costs
They are quickly installed and will protect your timbers from sun, wind and rain damage during the construction phase
Enercept is the Eco-friendly, Energy-efficient, Better Way To Enclose Your Timber Frame Home.