High Performance Neighborhoods Offer a Better Quality Of Life
Our favorite planned communities strive for responsible construction and promote sustainable living
Just as the advent of smart technology has led to smart phones and smart appliances, it is no wonder that the advent of high-performance housing is now leading the way to high-performance, energy-efficient neighborhoods.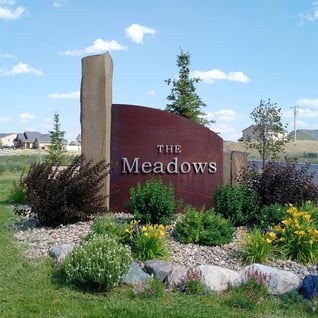 Energy-efficient building systems, high-performance appliances and other smart technology gives these neighbors a comfortable, convenient, efficient living experience that surpasses what we thought possible just a few years ago.
The Enercept Structural Insulated Panel Homes being built at The Meadows are up to 60% more energy-efficient than stick-framed homes being built in most developments. The energy-efficiency and other benefits of SIP homes improve the living experience of families living in them.
Housing at the Meadows Offers:
158% More R-Value
60% Less Energy Usage
Better Indoor Air Quality
Stronger, more resilient homes
Sustainable Building
Less Thermal Bridging
Enercept SIP homes heat and cool more efficiently which means less fossil fuel consumption and fewer greenhouse gas emissions. A SIP home is a result of both the air-tight envelope and the substantially higher R-value.
Enercept SIP homes have a huge advantage for those with environmental or chemical allergies. The air tightness of SIP buildings envelope prevents air from gaining access to the interior of the home except in controlled amounts.
SIPs are made with expanded polystyrene (EPS) rigid foam core sandwiched between two structural skins of oriented strand board (OSB). When the OSB and EPS are laminated together they create an insulated panel that is 2.5 times stronger than a stick-frame wall.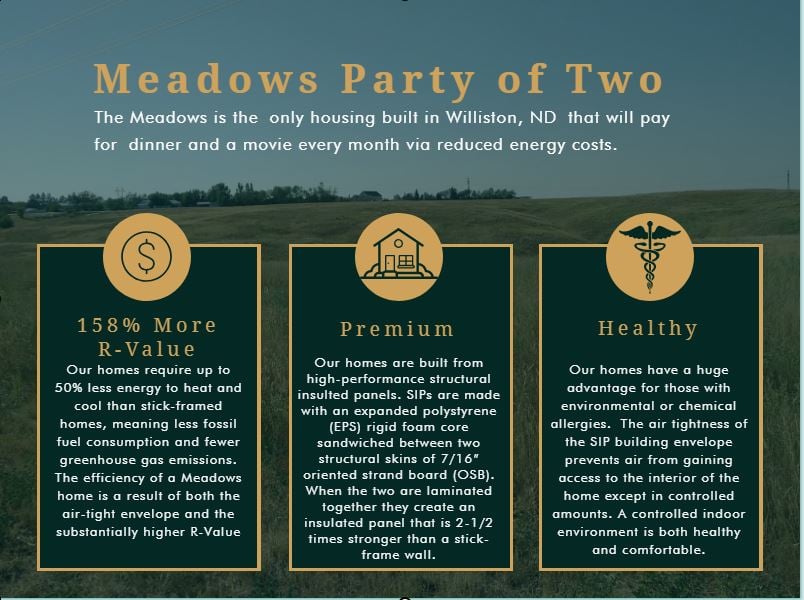 Enercept is honored to have been selected by The Meadows to partner and build a better living experience for the Williston, ND community.
Providing a comfortable living space with lower energy costs offers a better quality of life for the residents living in High-Performance Neighborhoods like this. Learn more