Habitat For Humanity Duplex will Feature Enercept SIP Walls
"We are so very grateful for all of the generosity of the Watertown community & businesses! Because of all of your big beautiful hearts Habitat has been able to provide 29 affordable homes to families right here in Watertown." Habitat For Humanity Greater Watertown Region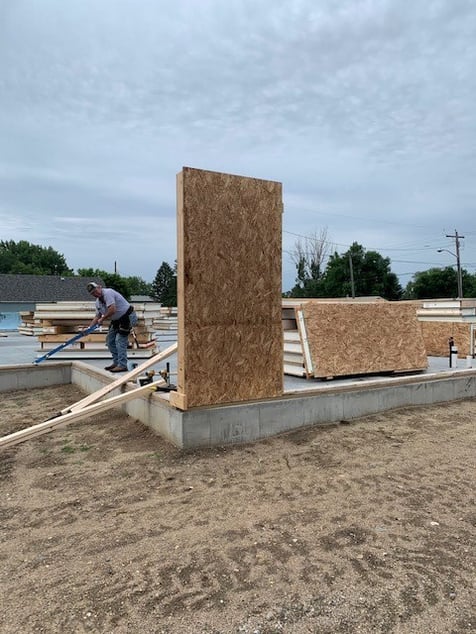 After setbacks, weather, and Covid 19 - the first panel was set at the Watertown Habitat for Humanity Duplex on June 22nd
Since 1995 Habitat for Humanity Greater Watertown Region has been busy working on homes and helping families around the area settle into their forever homes in economically efficient environments.
Their latest project, a duplex, will provide housing for two Watertown families. Plans for this project started in the summer of 2019, and SIP panels were ordered in the fall. Losing their Sight Supervisor in late fall created the first delay, followed by a cold and snowy South Dakota winter. Just as plans were back on track, the Corona Virus shut down Habitat for Humanity activities Nationwide in March.
Once the concrete work was completed, the group started organizing volunteers in mid-June. Panels for the entire first floor were set by one carpenter (new Habitat Sight Supervisor, Ron Seefeldt) and a group of volunteers in under 15 hours. None of the volunteers had prior construction experience. In the photo below, a big thumbs-up after setting the final panel on June 25th.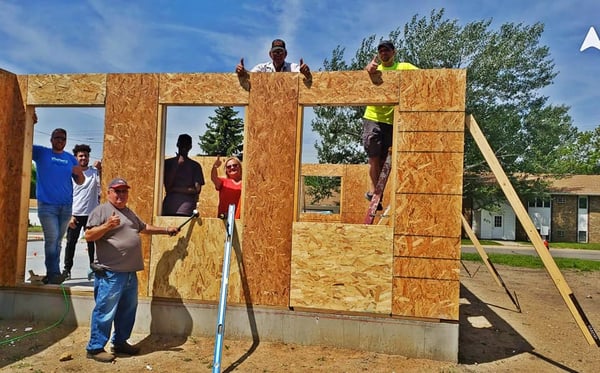 Later that evening, a storm with high winds blew through town, proving the panels were set well and braced well.
Enercept is pleased to sponsor the organization and contribute to its 30th and 31st homes.
In addition to supplying payment-in-kind discounts on the structural insulated panels, Enercept has been providing labor and support during the construction. Pitching in on the first floor panels were Enercept Regional Sales Manager, Dawn Gehrke, and Marketing Coordinator, Roberta Bartel. In addition, Enercept Drafter, Shane Woodell, has been working with Mr. Seefeldt on design details.
Over the past several years, Enercept has supported Habitat for Humanity in many other communities, including organizations in South Dakota, North Dakota, and New Mexico.
Like us on Facebook to watch the progress as we move forward with Watertown's newest Habitat for Humanity duplex.