Building A Resilient Community
The $60 million plan involves members of the Oglala Lakota Nation helping to build their own homes.
Enercept was honored to have been selected by Rob Pyatt and the Thunder Valley Community Development Corp for this community project. The homes are assembled with Enercept's structural insulated panels for faster, easier construction. Enercept has delivered seven of the beautifully designed 1,300 sq. ft. three-bedroom homes so far, with more to follow. Thunder Valley hopes to have the first families move in this spring. Enercept's corporate office is in Watertown, South Dakota, being able to help build this resilient, sustainable community right in our backyard has been a true privilege. We couldn't be prouder of everyone involved in this tremendous community project.


Photo credit: Pyatt Studio
The Pine Ridge Reservation in Porcupine, South Dakota, is home to 35,000 members of the Oglala Lakota Nation and comprises some of the poorest counties in the country. Besides widespread unemployment, the area struggles with overcrowded housing and, by some estimates, may require 4,000 new houses. In 2013 a local nonprofit, the Thunder Valley Community Development Corp., commissioned a master plan for an eco-friendly community that would generate economic, cultural, and social opportunities for Pine Ridge. The plan calls for a 34-acre mixed-use development, estimated to cost $60 million, with roughly 100 units of affordable housing. The first phase includes 21 units that the community is helping to build. "Whenever you're building houses, you have the opportunity to use that product as a workforce-development training program," says designer Rob Pyatt of Boulder, Colorado.
Scheduled for completion in December, a neighborhood of seven houses designed by Pyatt Studio represents the beginning of the Thunder Valley Regenerative Community Development. The model for two more neighborhoods, it incorporates a matrix of practical and cultural considerations. The three-bedroom homes can be expanded to include a wheelchair-accessible bedroom and bath. The buildings face east, the orientation of traditional Lakota dwellings, and they're arranged around a central garden, referencing the sacred geometry of the tipi circle. Their pitched roofs shed snow and hold solar panels, and they're clad in painted corrugated steel for durability.
The homes are also designed to be net-zero, which, in a region that has average lows of 9 degrees in December and highs of 89 in July, is not just a worthy environmental goal, but critical to affordability. "The idea was to exchange people's heating and cooling bills with mortgage payments and build equity," says Pyatt. The design team followed Passive House guidelines, creating heavily insulated, tightly sealed homes with high-efficiency HVAC equipment. The homes are assembled from structural insulated panels for faster, easier construction. (Very-low-income buyers are lessening the cost through sweat equity by helping to build their own homes. Students in a local educational program are also receiving hands-on training.)
If all goes according to plan, in another eight years the neighborhoods will be part of a community that includes retail buildings, a greenhouse, a wastewater treatment plant, and more. Lenny Lone Hill, a tribal elder and construction trainer, says, "We're past the talking stage—we're showing that we can do it."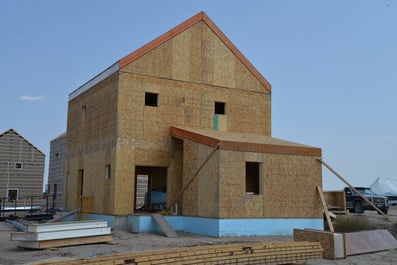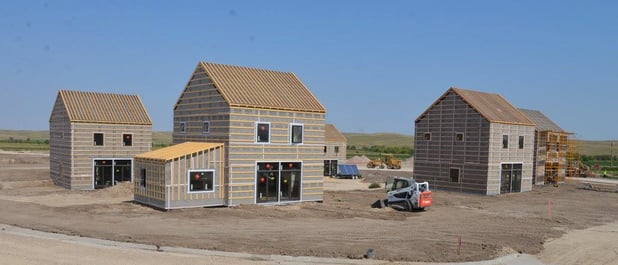 One of the first meetings to discuss new affordable housing for the Oglala Lakota Nation took place in an intimate setting: "We sat and talked about what the housing program could be in a sweat lodge," says tribal elder Lenny Lone Hill, who was there with his nephew Nick Tilsen, founder and executive director of the Thunder Valley Community Development Corp., a local nonprofit, and designer Rob Pyatt. An eight-month, community-led process informed the residential design. Having previously worked on housing at a Native American reservation in Montana, Pyatt focused on the single-family dwellings. Kansas City firm BNIM, which collaborated with Pyatt Studio on the master plan, designed an apartment building.

---
To learn more about Enercept building products, join our email newsletter.

---
Sources:
Video news clip By Stewart Huntington | Posted: Thu 12:48 PM, Nov 30, 2017 kotatv.com
http://thundervalley.org/live-rez/our-programs/community-development The Single Family Homes in the video were designed by architecture firm Pyatt Studio and the Community Building & Bunkhouse were designed by architecture firm BNIM. All of this work is made possible through the essential contributions of our partners at KLJ. Click here to share the video on Facebook.
Dwell Magazing
To read the original article on Net-Zero Homes Help Solve an Affordable Housing Crisis at a Native American Reservation
By Lydia Lee –