Just ten months ago I wrote an article on high lumber prices - when lumber was averaging $800 per thousand board feet, "Do Higher Lumber Prices Make Building With SIPs More Attractive?". This week lumber prices sank below $1,000 per thousand board feet for the first time since late March, according to Random Lengths.
What impact do lumber prices have on the cost of SIPs?
Unfortunately, with the increase in lumber and OSB prices, SIP prices have also gone up. That being said, SIP prices have not gone up as much as lumber - in our case, we are talking roughly a 40% increase from January 2020.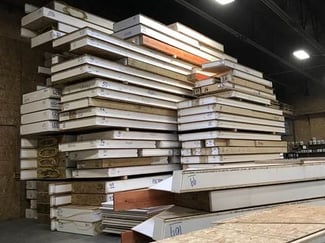 The SIP alternative to stick-frame construction remains a more affordable option.
Why building with SIPs saves you money:
SIP ready to assemble (RTA) panels arrive on site with factory-cut openings and electrical chases
There is less on-site waste - reducing the need for expensive waste removal
Less job-site theft - unlike lumber, a SIP panel is of little use to would be thieves
Framing, insulating, and sheathing is done in one step - quicker construction cycle, building dried in faster
Uniform nailing surface for siding, trim and interior finishes.
Panels are straight, predictable and square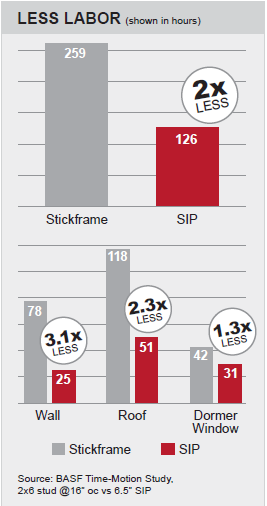 Lifetime of savings
With Structural Insulated Panels you will lower your energy use. You will save 40-60% on annual heating and cooling costs. There will be less thermal bridging and no cold spots on your walls. Your home will be more comfortable, quieter and healthier. Why? Because of the tight envelope a SIP system provides.
The future of framing costs
I wish I had a crystal ball to tell you how to plan for building in the future. According to Business Insider, while prices have begun to decrease, lumber prices are still up 175% on a year-over-year basis.
Despite a recent drop, prices will likely remain above pre-pandemic levels for the next 12 to 18 months.
Plan on longer lead times
While we have seen a downward trend in lumber prices, supply-side shortages continue to affect the construction industry. A recent report from the NAHB found the lack of materials was more widespread than any other period since the association began tracking the issue in the 1990s. The NAHB's May Housing Market Index (HMI) survey in May 2021 found approximately 90% of builders who buy framing lumber, plywood, and OSB reported shortages. However, shortage issues for builders extend beyond lumber, as sourcing appliances and windows and doors are issues plaguing around 90% of builders, according to the NAHB.
Plus, the demand for new construction is robust. Builders, manufacturers, and trucking companies are super busy and trying to catch up.
My advice, plan ahead and practice patience while we transition out of the pandemic. We will need to work together to get the building industry back on track.
Are you ready to plan you next project?