Are you ready for winter?
We've all seen it before - the urgency in the air to get your building projects buttoned-up before winter hits. However, after this crazy year, your bottom line is longing for another build to carry you through the winter. How can structural insulated panels help you get the job done?
In the pros and cons of building in the winter months, the cons often outnumber the pros. Here are some ways SIPs can help even the balance and extend your building season.
Let's take a closer look at creating some pros from the cons:
Longer Completion Time: Framers need to bundle up in layers during the winter months. From long-johns to heavy gloves, these layers can make you and your team move more slowly as you saw, fit and nail stick frames. With SIPs you simply need to caulk it, plumb it, and nail it. SIPs are just easier to handle with gloves than 2-x material.
Shorter Days = Less Time to Frame Outside: SIPs are just faster. You won't need as much time outside because you will be framing, insulating, and sheathing in one step - no more framing by the lights of your pickup. You'll get more done in less time, allowing you to get home earlier and start later on the shortest days of the year.
Temporary Heating:

Depending on where you live, you will likely need to heat the interior of our winter project. But, with the superior insulating quality of SIPs, propane costs will be less. Time and again, builders have shared comments like this:



"While working on the home last winter (before the mini-splits were installed) we were able to maintain a 65-degree temperature with the use of one heater in the basement level."
Johnny Jones, Thermopolis, WY, referring to his 4,352 sq. ft. home completed in February 2018.
In most locations, there's still time to get your concrete poured before the ground freezes, and plenty of time to get started on your next building project. By the time we have our January thaw, you'll be working inside with no heavy coat. You may even be able to skip the long-johns.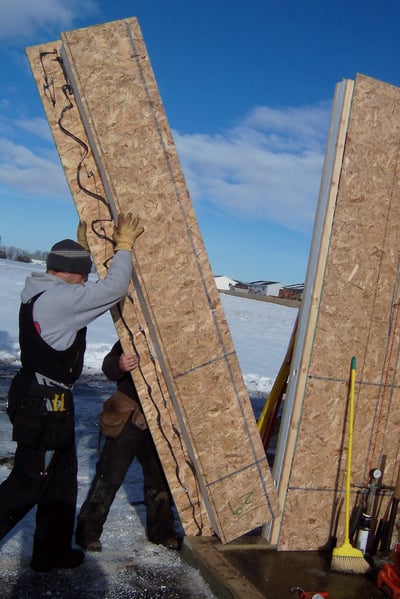 When you look at the rest of the factors contributing to construction costs — reduced labor expenses, heightened site productivity, decreased waste and less overall energy consumption — the total makes sense. That's significant value you can pass on to your customer, even if Ol' Man Winter tries to make it difficult.
Our Mission: Our Commitment
When you build with Enercept SIPs we provide a building that will go up faster and will be warmer, tighter, stronger, quieter and more cost-effective than conventional construction. It is a commitment that others simply can't beat!