Hidewood Meats provides custom meat processing of beef, pork, lamb, goat, and deer. It is also a retail outlet for meat, seasonings, sauces, cheese, and honey.
The owners, Mr. and Mrs. Kevin Nielsen chose SIPs for the insulating value - especially for the coolers and freezers that make up the bulk of the building's square footage. Enercept SIPs make up all of the exterior walls, most of the interior walls, and the roof over all of the cooled spaces.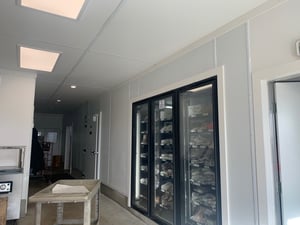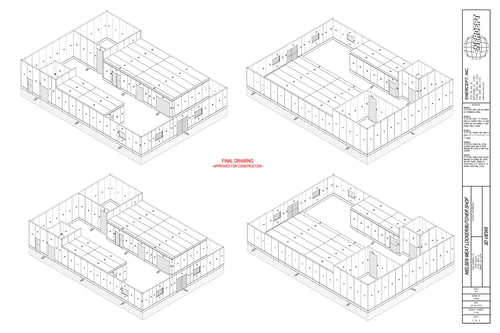 Using SIPs with factory installed Fiberglass reinforced plastic (FRP) also saved a huge amount of on-site labor cost. FRP was installed at Enercept for all interior surfaces; because it is a food processing facility, stainless steel nails were used to connect the SIP panels.
A reinforced trussed system installed over the insulated SIP roof panels, supports a rail system to move product from the chute to hanging cooler, and cutting room. The rail system support (trusses) must support 2,000-5,000 pounds per rail.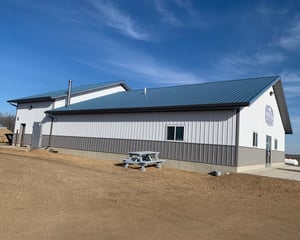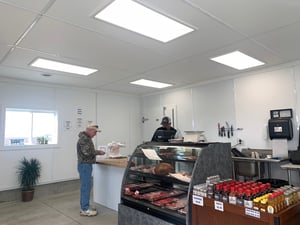 The owners relocated from a metro Minnesota are to their hometown of Brandt (population 107) to start their own business. Hidewood Meats services a multi-county agricultural community in eastern South Dakota and western Minnesota.

The Hidewood Meat Locker is an award-winning project. It was the 2022 winner of the Structural Insulated Panel Association's Building Excellence Awards in the Agricultural category.
SIPs are an excellent insulating system.
The most important factor in thermal efficiency is the continuity of the insulation. The Enercept system provides a solid envelope of continuous insulation. The Enercept system has the ability to resist heat transfer by both conduction and convection. By comparison, according to an Oak Ridge National Laboratory study, a conventional stick-built wall would require an R-value of R-40 to compete with a 6-inch Enercept wall (R-24).
Because of this, SIPs are the obvious solution for coolers and meat lockers - when protected by a layer of moisture resistant, easy to clean FRP skins.
View more award-winning projects in our project gallery: