Without a doubt, South Dakota offers some of the best Pheasant Hunting in the Country, and Enercept couldn't be happier to have played a part in the construction of two very unique hunting lodge buildings. Each SIP lodge gives its guests a rustic, world class place to sit, relax, and enjoy after the hunt.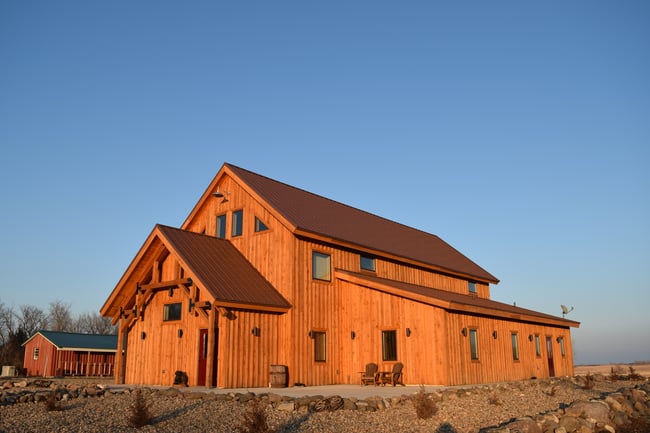 Pheasant Acres
Pheasant Acres is located near Armour, SD - two hours from Sioux Falls, one hour from Cabela's, and only 30 minutes from Fort Randall Casino. The Post and Beam Framed lodge is surrounded by 3,500 acres filled with native grasses, and over 100,000 trees; it is an absolute wildlife haven.
The Enercept SIP enclosed lodge is 4,871 sq. ft. (including an inviting loft area.)
The original lodge was destroyed by fire in 2013. The owners were interested in the superior energy efficiency provided by the SIP enclosure system; they were also interested in a quicker construction cycle as they needed to be ready to open in less than a year for the 2014 Pheasant Hunting Season.
The lodge has 6" SIP walls and 8" SIP roof. Building with SIPs ensured that the project would be weathered-in more quickly protecting the custom timbers from the late spring snows, summer rains, and hot sun of the South Dakota summer.
In addition to the energy-efficiency of Enercept SIPs, Pheasant Acres incorporated LED lighting, energy efficient appliances, and energy efficient Marvin Integrity Windows.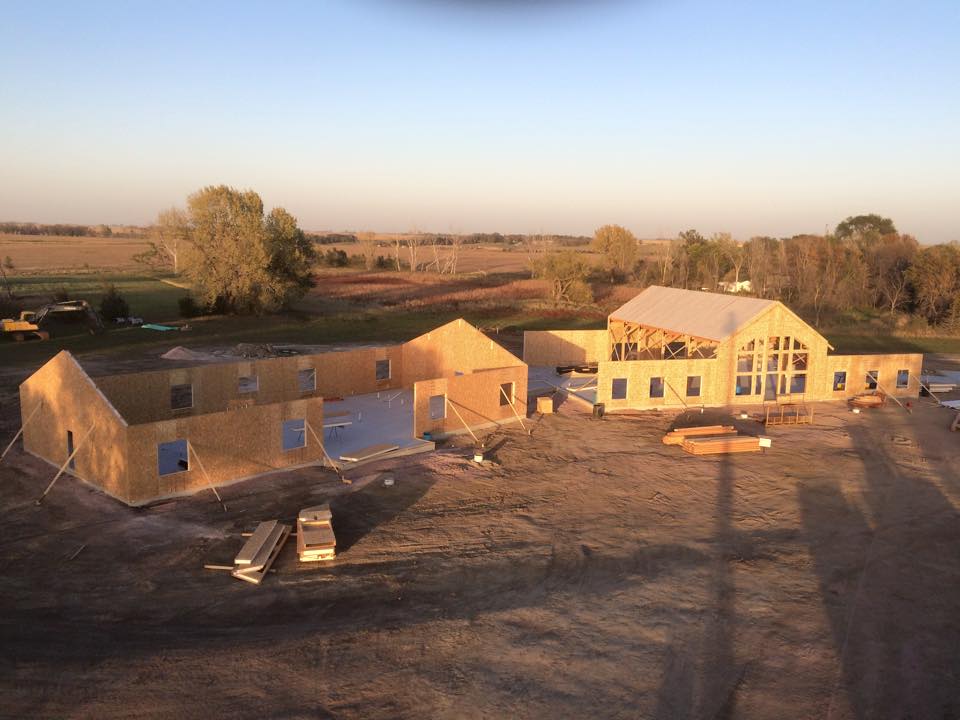 A1 Al's Pheasant Ranch
The Terveen family's 6,000 acres, A1 Al's Pheasant Ranch is located near Emery, SD (about 45 minutes west of Sioux Falls or 15 minutes east of Mitchell. The 20,000 square foot lodge has 20 bedrooms, a bar/recreation room, grand hall for meals, a conference room and two private commons areas. This lodge also features Post and Beam Construction over the grand hall and was built by the same crew as Pheasant Acres - Josh Barber/JBar Construction Specialties.
The lodge was completed in 2016 and featured a 6" SIP wall and 12" SIP roof.
The post and beam construction married up well with SIPs, especially in the high vaulted ceiling areas. SIPs were also a benefit by enclosing the Timber Beam structure more quickly, thus limiting the exposure of the timbers to the weather. The lodge is oriented to take advantage of solar gain in the Winter and shade in the Summer. The straight, simple design of the lodge wings saved the owners' money.
Andersen 400 series windows with a U-value of .27 were used throughout. The breeze-way joining the main lodge and wings were insulated with spray foam. The main lodge and guest room wings are 100% SIP enclosures. The entire building utilizes LED lighting. Water is heated with Marathon 110 gallon hot water heaters. Three phase appliances were used. Reclaimed barn wood and reclaimed galvanized steel was used for interior finishes.
Our Mission: Our Commitment
When you build with Enercept SIPs we provide a building that will go up faster and will be warmer, tighter, stronger, quieter and more cost-effective than conventional construction. It is a commitment that others simply can't beat!
See more Enercept Case Studies Here: