It's no secret that OSB, lumber and housing are hot commodities right now - and a challenge to get your hands on. But, where does this leave SIP construction?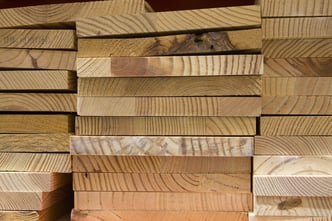 Lumber Prices

We've seen the memes and cartoons - following someone hauling a load of lumber down the highway, captioned, "I passed a millionaire today." Or the couple sitting at a table in the lumber yard, captioned "She wanted me to take her someplace expensive."

While amusing, the reality is a troubling situation. How did we get here? What has changed? And, why hasn't it been fixed?

The primary reason why lumber prices have tripled over the past two years -- going from roughly $350 per thousand board feet to nearly $1,200 in 2021, according to Random Lengths – is due to insufficient production. Back in 2005-2006, the housing industry was booming. Sawmills were cranking out lumber at a pretty good rate. Following the housing bust, sawmills cut production. As of March 2021, capacity was still 11% below the 2006 peak.

In addition, many mills reduced production in 2020 due to stay-at-home orders and social distancing measures enacted by state and local governments at the onset of the coronavirus pandemic.


To make matters worse, housing demand is up roughly 50% over pre-pandemic averages. This need continues to grow while the number of available pre-existing homes has plunged, increasing the demand for new construction.

The average size stick home uses 16,000 board feet of lumber to build. That used to cost about $10,000; today, the same 16,000 board feet of lumber costs $40,000.

The SIP Option

The lumber feeding frenzy has spiked interest in alternative construction methods, including - with good reason - SIP construction. While OSB prices and availability have been adversely impacted by these events, SIPs are proving to be a more affordable choice.

What Makes SIPs More Affordable?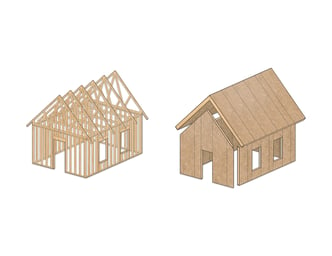 SIP construction uses less framing lumber. Our walls are made up of two OSB skins, laminated to an expanded polystyrene (EPS) foam core. The only lumber needed is the top and bottom plate material - which you would also need in the stick-framed home. You also need to sheathe and insulate the stick-framed house; this is done for you with the Enercept SIP home. By virtually eliminating the framing lumber, you also save on framing time. SIPs install much more quickly than stick-framing, saving you labor costs as well.
Plus, the long-term savings you will realize - every month, for the life of your home, when the utility bill arrives.
Summary
It will take some time for the sawmills to boost capacity, and until then, markets will keep rationing out smaller quantities of lumber at higher prices. We are in this together, and don't need to feel like we are lost in the forest - OH MY.
Now is the perfect time to check out the many benefits of Enercept and SIP Construction: