Know What You Are Getting Before You Buy.
Enercept Ready To Assemble (RTA) Structural Insulated Panels (SIPs)
SIPs are customized to varying levels depending on customer needs, including blank SIPs, prefabricated SIPs, and RTA packages. Enercept specializes in custom, RTA SIP packages.
Enercept RTA SIPs feature factory installed rough openings, bucked out, and ready for you to install windows quickly and efficiently.
Enercept Ready To Assemble, RTA, packages include internal lumber and headers provided and pre-installed in the factory to maximize speed and efficiency on-site.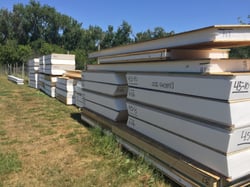 With the Enercept fully customized RTA package, all the rough openings will be factory cut and bucked out, ready to receive your doors and windows. Your wiring chases and beam pockets are also factory installed. Your package will include plate material, house wrap, seam tape, sealant and sausage gun, SIP screws, construction drawings, and beam packages as needed.
Prefabricated SIPs are designed and cut in the factory. However, interior lumber and headers are not pre-installed, increasing the time of site installation. Fit and finish of the panels is completed on the job-site.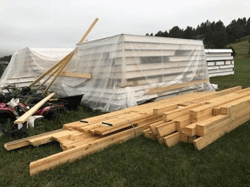 Prefabricated is typical among SIP packages, although, as labor becomes scarce, RTA packages, like Enercept RTA's, are gaining in popularity.

Blank SIPs are the least expensive.
However, blank panels limit your installation speed advantage, create more waste, and require a higher degree of installation skill as all cutting is performed on-site.
Whatever SIP package you select, SIPs are structurally stronger than traditional wood framed structures, straighter, tighter, and offer a quicker construction cycle - with less construction site waste.
Enercept has been manufacturing panels since 1981 and has built a solid reputation for delivering the most customized SIPs on the market. That commitment to quality has made us the "builders' choice" for structural insulated panels.
No matter your preference, blank panels, prefab panels, or Enercept RTA panels, Enercept is your ultimate solution. Look no further, we are here to cater to all your structural insulated panel needs.