Parishioners at Prairie Winds United Methodist Church in Dickinson, North Dakota have a new church for Christmas this year … and they couldn't be happier.


"We're really excited," says Pastor Dick Rinearson. "We're really thankful to be here, especially after 15 months without a building."
The relocation process began in October 2016 when the congregation decided to sell their 1917 downtown structure to the neighboring American Bank Center, who was looking to expand operations.
"The foundation of the building was crumbling and beyond repair," Rinearson explains. "We moved out of the building in June of 2017. The old building was torn down."
During the interim and construction phase, the parsonage became the temporary home to the church offices and church events were spread out around the city. Sunday services were held at Ladbury Funeral Home, while youth groups met at the West River Rec Center. Bible studies and other meetings were held at St. John's Lutheran Church.
"Our motto during that was, 'If you can find us, you can join us!'" Rinearson explained, adding they had a series of totes packed and ready to go for different church activities, wherever they might have been."We received so much support from others during this interim time, we were truly grateful to everyone who opened their doors to us."
On September 9, 2018, the congregation held their first worship service in their new building under a new name — Prairie Winds United Methodist Church. A combined worship and fellowship area is a new concept for the parish, but it's working out well and they're enjoying the flexibility as they utilize the space.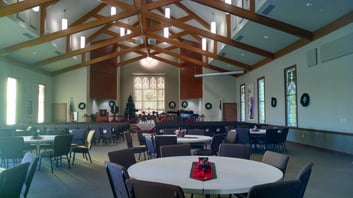 "It's really wonderful to have our own building. Everyone's really pleased with the fact that we're all on one level," Rinearson says. Now, due to the new structure's ADA-compliant design, members who have mobility issues avoid dealing with stairs and are able all church activities throughout the building.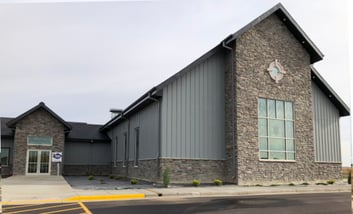 Another change for the congregation is the addition of another service each Sunday; they now have a more traditional hymn singing service and later, a contemporary worship.
Preparing the new church for Christmas has been enjoyable and they're ready for their usual services which were held at the funeral home last year. Due to regulations, they were unable to use actual candles, as had been their custom. But this year,
the flames will be passed from parishioner to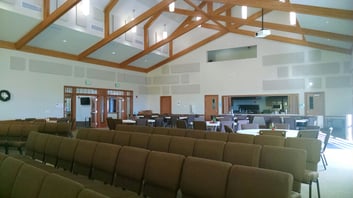 parishioner during the annual tradition.
"We will have our regular candlelight service. We're excited about that. It's always just very special," Rinearson says.
Special indeed, and certainly the beginning of many years of re-establishing longtime traditions and building new ones as they celebrate the first Christmas in their church's new home.