July is National Log Homes Month!
Often associated with American colonial life, log cabins have a long history in the United States and are still popular today. Today's Log Homes are being built to be more energy efficient and are often topped off with a SIP roof.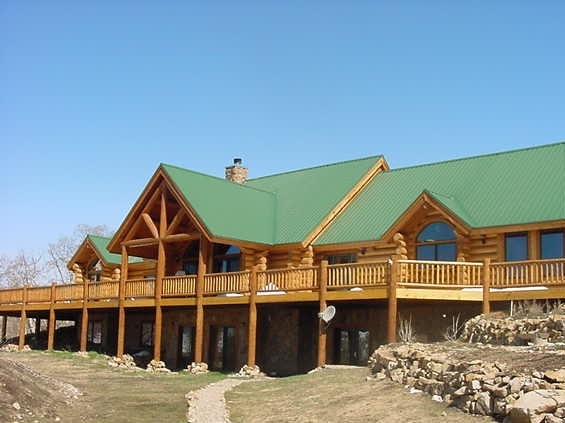 Humble beginnings: At least three Presidents claim to have been born in log cabins, Lincoln, Jackson, and Buchanan. Other candidates used the log cabin to signify that they were men of the people, hailing from financially humble backgrounds.
Today: The love affair with log cabins (perceived as strong, reliable, wholesome, and environmentally friendly) continues today. But, log cabins today are more accurately termed "log homes" and are built with milled or handcrafted logs and are finished off with an energy efficient SIP roof. While log homes still convey a cozy, natural, rustic feeling they are also high-performance homes that will last for generations.

Energy Efficient: Timber is nature's insulator with thousands of tiny air pockets trapped in every square inch of the wood. The heat transfer through the log is slowed naturally, making log homes warm in the winter and cool in the summer.

Energy efficiency in log homes can be greatly enhanced with better planning and design:

Build Smaller and Smarter - maximize every square foot of living space
Minimize Air Infiltration - make sure the logs you use are kiln-dried, which takes out most of the moisture; use gaskets, foam and caulk between log courses. Keep in mind that milled logs are easier to seal.
Site Orientation and Window Placement - include larger windows on the south side of the home and smaller windows on the north side. Opt for longer overhangs.
Why a SIPs Roof?

An Enercept Roof System is 40%-60% more energy efficient than stick framed roof systems.
Because the roof panels are fabricated in the factory, you save time and money with the ease of construction.
The Enercept roof system assembles quickly, speeding up the closure of the building.
You'll be able to save money by cutting down the need for added log rafters
The I-beam strength of a SIP roof will provide added protection
July is National Log Homes Month, the perfect time to take another look at the timeless look of log homes.
To learn more about events celebrating National Log Home Month, click on this image: