Each year, the Structural Insulated Panel Association (SIPA) is hosts their annual Building Excellence Awards to recognize association members that build exemplary projects using structural insulated panels (SIPs). The competition allows SIPA members to showcase their best work while demonstrating the design flexibility, sustainability and energy efficiency possible with SIP construction.
Since 2014, Enercept has been awarded ten First Place honors in a variety of categories as well as on Overall Winner. As an active and driving force within the industry, Enercept aims for excellence in all projects and is proud to showcase the best of the best each year. As we eagerly await the announcement of this year's winning projects, let's take a look back at the Enercept's winners.
2014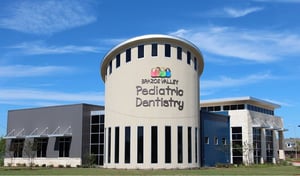 Commercial/Industrial/Institutional Under 10,000 Sq. Ft.
2014 Winner - Brazos Valley Pediatric Dentistry- College Station, TX by Enercept
This unique professional/dental office features a tower which is not only structural but also an integral part of the building's mechanical systems. The windows bring in additional passive lighting, which was taken into account when sizing the mechanical systems. The structure features SIPs and steel, a marriage which met with fantastic results. Construction was quick and uncomplicated, which (along with energy efficiency) was critical to the owners.

2015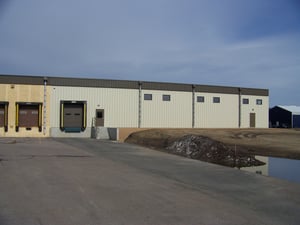 Commercial/Industrial/Institutional Over 10,000 Sq. Ft.
2015 Winner - Moffat Products- Watertown, SD by Enercept
A repeat customer, Moffat Products, built their original building with Enercept SIPs and were so pleased with its performance, they returned to Enercept when planning their 12,000 sq. ft. addition. The light industrial building is used for manufacture of lighting products and includes offices, meeting rooms, manufacturing area and storage. The owners were focused on the energy savings the building will provide.

2016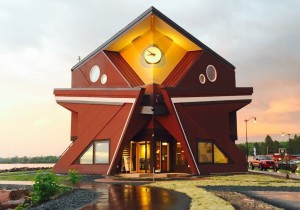 Commercial Under 10,000 sq. ft.
2016 Winner - Blue Wave on the Bay Hotel & Store - Ashland, WI by Enercept
This exceptional structure is a combination of steel, heavy timber and SIP construction. The design/engineering company was able to take an eclectic and experimental approach, using SIPs in conjunction with other materials. The architecturally unique building was designed to look like a ship in honor of historical icons from the Ashland and Chequamegon Bay areas.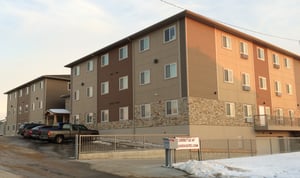 Multifamily Housing: Student Housing Complex
2016 Winner - Lake Area Suites - Watertown, SD by Enercept
Lake Area Suites project, a 24-unit development in Watertown, South Dakota. Built by Heilman Homes and Construction in response to the growing demand for student housing, the spacious quarters offer an attractive upgrade to traditional student housing. The owner specified SIP construction for speed of construction, energy savings and the ability to work with local firms. Built on time and within budget, the project also meets the stringent requirements of the 2012 International Energy Conservation Code.
2017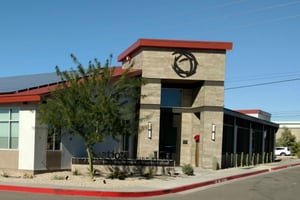 Commercial/Industrial/Institutional Under 10,000 Sq. Ft.

2017 Winner - Ideation Design
- Scottsdale, AZ
by Enercept
Ideation Design Group is a creative design studio employing 42 people. The studio comprises an architecture division, interior design services, food service design, graphic design, as well as a procurement department, IDG Purchasing. The owner was looking for the long-term value of a super-insulated, high efficiency building.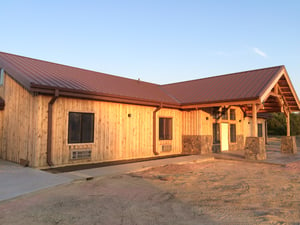 Commercial/Industrial/Institutional Over 10,000 Sq. Ft.
2017 Winner - Al's Pheasant Ranch & Lodge - Emery, SD by Enercept

Al's Pheasant Ranch is an up-scale pheasant hunting lodge with 20 guest rooms, and a multi-use event center with bar/recreation room, grand hall, conference room and two private commons areas. The owners wanted to build the most energy efficient hunting lodge possible. The lodge is oriented to benefit from solar gain in the winter and shade in the summer. Featuring post and beam construction and vaulted ceilings, it is a perfect display of how SIPs support design flexibility for timber framed construction. The SIP walls and roof not only made building faster and easier, but also limited the exposure of the timbers to the weather.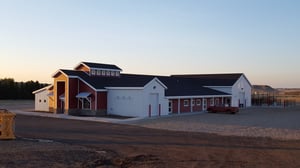 A
gricultural

2017 Winner - West River Veterinary Clinic
- Hettinger, ND by Enercept
A state-of-the-art veterinary clinic, animal hospital and retail center in this agricultural community, WRVC services a large geographic area with five veterinarians and numerous technicians. Having outgrown their existing facility the owners were determined to build new, and to build as energy efficient as possible with a long-term value view. The entire envelope is constructed with SIPs.
2018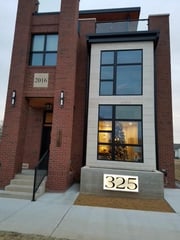 Over

all Competition & Single Family Houses under 3,000 Sq. Ft.

2018 Winner in both categories - Chapman Residence - Edmond, OK

by Enercept


The Chapman In-build is a primary residence for Dr. David Chapman and his wife, Julie. They also rent the apartment above the garage, short term, to people visiting the Edmond area through an online listing on Airbnb. The Chapman's chose SIPs not only because the design lent itself to SIPs construction, but also for sound dampening qualities, energy efficiency and less job site waste.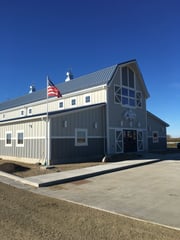 2018 Winner - Jorgenson Land & Cattle Offices - Ideal, SD by Enercept
Jorgensen Land & Cattle is a family owned and managed diversified crop and ranch operation located in South Dakota. The JLC Office Building is home to administrative offices, conference room, reception area and break/lunch room. Due to the extreme temperature fluctuations in this part of South Dakota (well below zero in the winter months to above 100 degrees during the summer) made SIPs an effective solution to decrease energy costs.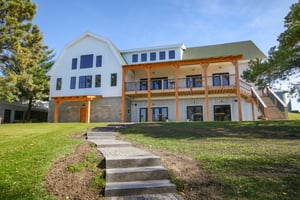 Renovations

2018 Winner - Gathered Oaks - Alexandria, MN by Enercept
Gathered Oaks is a unique venue located in a serene setting where guests can dwell in congruence with nature. This renovation saved the racked barn from certain destruction. Once squared, the structure was reinforced with timbers and the wall cavities insulated with spray foam. The outer roof was then clad with ten-inch SIP nail base before building the timber frame addition.

2019

1st Place Commercial over 10,000 sq. ft.
2019 Winner - Trav's Outfitter - Watertown, SD by Enercept.
Trav's Outfitter is a large retail business selling a large variety of work, western, outdoor, footwear, women's wear, and biker clothing.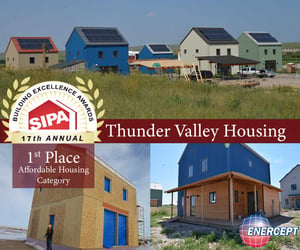 1st Place Affordable Housing
2019 Winner - Thunder Valley Housing Development - Porcupine, SD by Enercept.
The Thunder Valley Regenerative Community is located on the Pine Ridge Indian Reservation. Each climate change resilient unit is a single family home for low to moderate income Native American families.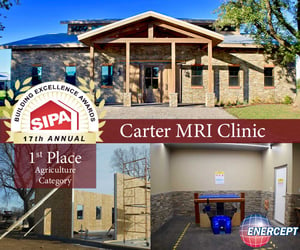 1st Place Agriculture
2019 Winner - Carter MRI Vet Clinic - Goldsby, OK by Enercept.
The Carter MRI Clinic is an addition building to the existing hospital complex designed specifically to accommodate Hallmarq equine standing MRI equipment, create a surgical suite, and allow functional space for lameness exams.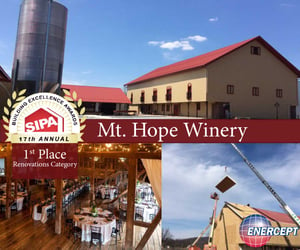 1st Place Renovations
2019 Winner - Mt. Hope Winery - Manheim, PA by Enercept
This building is a wine producing facility for the Mount Hope Winery. The ground floor provides 9,250 sq. ft. of workable space and is open for public tours. The re purposed barn loft is a venue that is rented out for special events. The original barn was built in the 1800's and wrapped in SIPs before adding a 5,400 sq. ft. SIP addition.