The 19th Annual Structural Insulated Panel Association (SIPA) Building Excellence Awards were announced on March 16 during the Association's 2021 Annual Meeting in Orlando, Florida. These awards recognize SIPA association members and exemplary projects using structural insulated panels (SIPs). The competition allows SIPA members to showcase their best work while demonstrating the design flexibility, sustainability, and energy efficiency possible with SIP construction. This year Enercept brought home five awards.
Category: Single Family Homes over 3,000 sq. ft.
SIP House and Workshop Crested Butte CO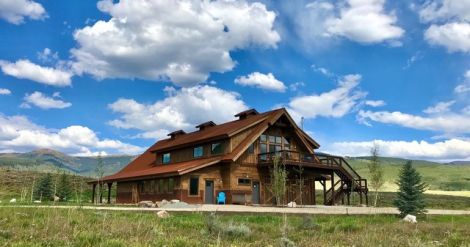 The Betz Barn is a private residence with an attached workshop and garage. This residence was a Runner-up in this category.
The structure is built using 6" SIP wall panels and 12" SIP roof panels. The building location is in Crested Butte, CO, at an elevation of 8,920 feet. This creates a short window of time to get the envelope up and dried in. The speed of SIP construction was important to the owner. Also of concern at this elevation were snow loads, as they average 300" of snow annually. The superior strength of SIPs made them the preferred method of construction for this project.
The entire project was completed in less than 12 months. To date, the highest heating bill for the 5,000 sq. ft. house/shop was $140.00. The home is very tight. It exchanges 6.7% of its volume of air with the exterior per hour.
A section of the lower level is a 750 sq. ft. Airbnb rental that offers fantastic mountain views, plus easy access to mountain biking, hiking trails, rivers, and snow skiing.
The builder was Chris Young, C & C Construction from Orangeville, IL. The home was designed by Ben White Architecture in Crested Butte, CO.
Category: Renovations
Goss Opera House SIP Roof Renovation Watertown SD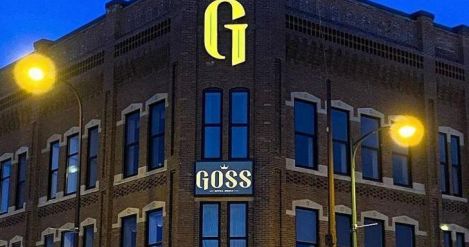 The Goss is an 1880's Opera House with a stage, balcony, and box seats used as an event venue for concerts, weddings, plays, dances, and more. There are also four other meeting rooms on the upper level, and retail space, and a restaurant on the main level. The roof renovation using 12" SIP roof panels earned the first place award in the Renovations category.
Enercept's part in this renovation was a total roof replacement. Enclosing the roof as quickly as possible was critical.
The design/engineering team solved the problem of a failing structural beam in the roof by replacing it with clear spanning roof trusses and spanning SIP roof panels over those trusses. This renovation saved a 131 year old building from failure and demolition.
Excerpts from the Goss website:
'The Goss Opera House slowly went dark after the Depression, and by the late 1950s, it became a largely forgotten part of our history. Nearly 70-years after going dark, a non-profit group rallied thousands to help preserve the history of the Goss Opera House and bring life back to the space. After more than a year of reconstruction and renovation, totaling an approximate $5 million, the 131-year-old iconic building, originally built by Charles Goss, has been restored to its former glory. The Friends of the Goss Opera House manage the care of this landmark and is committed to preserving this magnificent building for all to enjoy.'

Although not a visible part of the renovation, the SIPs roof system was the answer to many of this building's issues. The new roof will protect this building, and extend the life of this building for another hundred years.
Hasslen Construction from Ortonville, MN lead the construction on this project. The project was designed by Tad Holt of TSP Architecture of Watertown, SD.
Category: Commercial Buildings under 10,000 sq. ft.
Navajo Blue Travel Plaza Center, Flagstaff AZ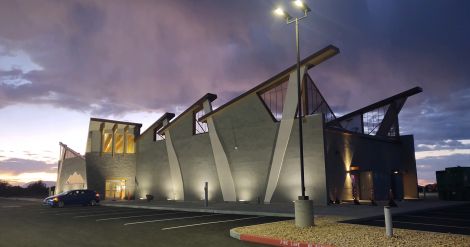 A unique travel plaza that introduces guests to Dine' culture. Navajo Blue features an all-new dining and retail experience with premium resort-style restrooms, showers, and laundry services for truckers and travelers. Navajo Blue Travel Plaza Center took first place in this category.
The Navajo Nation Gaming Enterprise's "Let's Build a Business" program called for college students and college graduates (interns) to work on the Navajo Blue Travel Plaza. The participants focused on Navajo Blue's sustainability framework. With this in mind, the architect specified SIPs for the project.
The building is constructed with a combination of 6" and 10" SIP walls and 10" SIP roof.
Using SIPs saved time because of the angles built into the walls and roof. The ready-to-assemble panels were easier to install than framing the design.
The "Let's Build a Business" program focuses on expanding Navajo minority priority businesses, including Rock Gap Engineering and Native Encompass.
During the Navajo Blue construction phase, Navajo Gaming created 200 jobs, 95% of which were Dine' workers.
The building was built by Keith Keets and Rock Gap Engineering and Construction, located in Albuquerque. Todd Downs at Native Encompass in LaGrange, KY did the design work.
Category: Commercial Buildings over 10,000 sq. ft.
Stencil Office Building - SIP Office Building Sioux Falls SD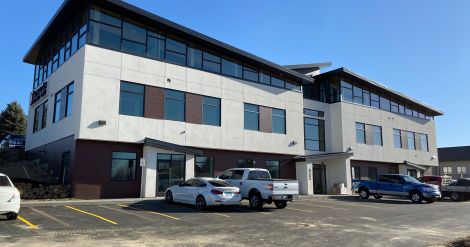 The Stencil Office Building is home to rented office and retail space. The owner's office suite is on the upper floor/penthouse.
The owners/builders were looking for an open timber concept with excellent lines and architecture. SIP construction was the perfect solution for the clean wall lines and distinct rooflines. Speed of assembly was also an important decision factor as they wanted to have the building completed within the year.
The Stencil Office Building brought home the first-place award in this category.
The building is constructed with 6" SIP walls and a 10" SIP roof.
Innes Henderson with s2s Architects commented, " The utilization of the glue-lam timber frame and the SIP wall and roof panels created a nearly seamless systems-built approach to doing this large commercial building."
Combining timbers and SIPs in a commercial environment and getting away from a steel frame/steel stud construction made for a warmer and more inviting atmosphere. The contemporary design, open office concept combined with natural elements creates an inviting place to work and conduct business. It is an excellent addition to a progressive community like Sioux Falls.
The Stencil Office building was constructed by Pete Stencil and The Stencil Group. Innes Henderson with s2s Architects was the designer.
Category: Single Family Homes under 900 sq. ft.
Bernalillo County Tiny Homes Village Albuquerque, NM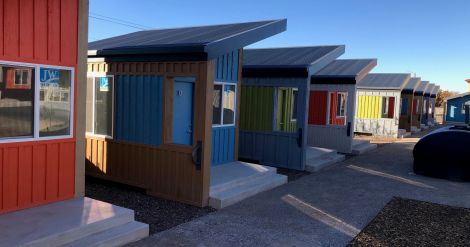 The Bernalillo Tiny Homes Village is a transitional housing development for homeless people who want to become contributing members of society.
New Mexico's Bernalillo County and the City of Albuquerque in 2016 began searching for ways to house its transitional homeless. Enercept Independent Dealer David Cappel, a Realtor and entrepreneur in Albuquerque and advocate of ecologically based home building, presented an ecological solution - SIP construction. At Bernalillo County's request, the architect specified SIP construction for the floor, walls, and roof.
The Tiny Homes Village project cost about $3.4 million, most of which came from Bernalillo County. The Tiny Homes Village is located on a formerly weed-strewn 1.3-acre lot adjacent to the Albuquerque Indian Center in Southeast Albuquerque - who manage the day-to-day operations of the housing development. Residents will be allowed to live in the tiny homes for up to two years while they take advantage of available social programs - those who are able will be expected to re-enter the workforce or get job training.
The Tiny Homes were built by volunteers from the local carpenters union under the guidance of Mike Brown and Epic Mountain Construction, Albuquerque, NM. Mark Rae Baker, Baker Architecture & Design P. C. also in Albuquerque designed the project.
See more award winning Enercept projects here: