Extreme Weather Protection...Get The Edge with Enercept SIPs

The demand for better-built, disaster resistant homes continues to rise as codes get stronger and homeowners realize the many benefits of a high performance home. Today there are more construction methods available than ever before. One of the most inclusive building solutions is found in the future of framing with Enercept Structural Insulated Panels or SIPs.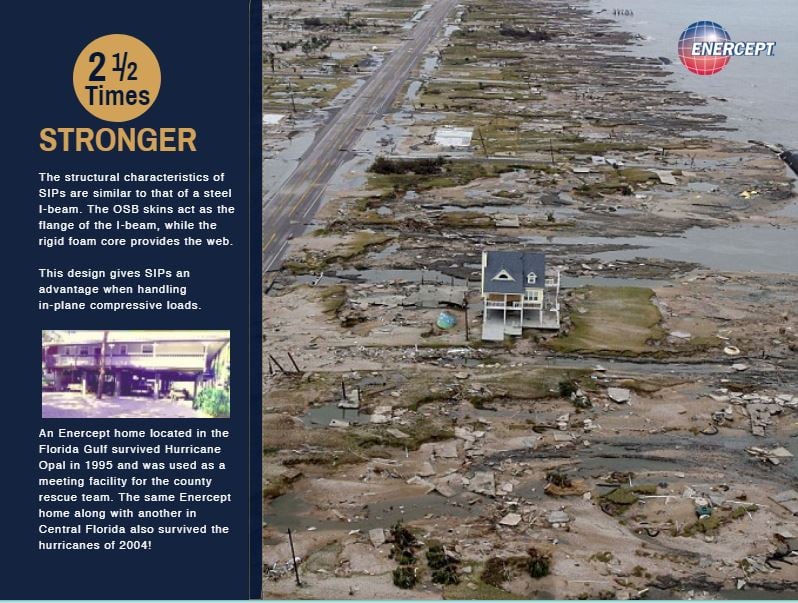 Building a More Disaster-Resistant Home One way of ensuring a new home's safety is to build it using durable, wind-resistant construction systems. A Structural Insulated Panel (SIP) wall system will deliver the strength you are looking for. Enercept SIPs are an engineered prefabricated structural building system comprised of an oriented strand board exterior laminated to a solid Expanded Polystyrene foam insulating core. Why is the SIP design significant?
According to Bill Chaleff, Registered Architect, A.I.A., LEED AP, in an article from 2014: "Boldly Go With Sips Where Few Have Gone Before"


RE: Seismic % Wind-loading Resistance, "The new national codes are very proscriptive about calling for all kinds of ties and strapping for stick construction in areas where seismic and wind loads are severe. Ordinary SIP construction automatically takes care of most of these situations. Assuming your sole plates are properly bolted down to the foundation, the uplift resistance may be calculated per fastener when one specifies the edge distance, the plate material, and the fastener type. For 1" edge distance (7/16" OSB skins), no.2 or better Douglas fir, and no.8 x 1 5/8" screws, we use the value of shear resistance of 100 pounds. When you figure the fasteners on both sides of the plate, and their spacing, you may come up with a value for the wall section or per linear foot of wall."

RE: Point Load Distribution, "The central idea behind SIP construction is that it is thin shell engineering. Like an eggshell, point loads are dispersed over large areas of the surface; the stress then at any given point is very small. Beams that have to carry such great loads that they are designed as steel may still, in many cases, be safely carried at panel walls with out having to post down to the foundation. Edge blocking that distributes these high loads along a significant run of panel may be the key to having the wall SIP alone safely receive the end of a steel beam."
SIPs Are 2 1/2 times stronger than stick-frame construction! SIPs have stood up to tornadoes, hurricanes and earth quakes.
"During Hurricane Opal in 1995 we held the Ozello County Rescue Meeting in our Enercept home ... everyone was impressed with the safe feeling the house gave them - similar to watching a bad storm on a big screen TV with the sound turned down! As one builder put it, 'Somewhere between a pyramid and the Tower of Babel.'
Our house is on a back bay of the Gulf of Mexico, 3 miles inland. It has withstood ALL hurricanes so far, with NO DAMAGE! During Hurricane Jeanne in 2004 we lost more than 15 large trees, but the house stayed strong." Doug and Barb Elvers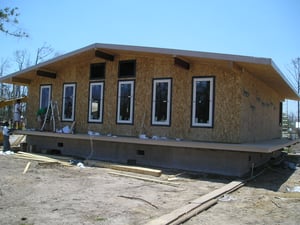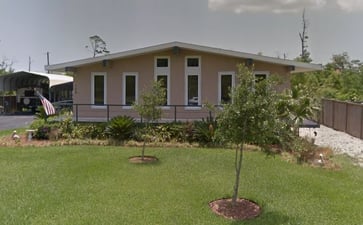 First home build in Waveland, MS following Hurricane Katrina