SIPs Streamline the Building Process
Nearly a decade after the recession flattened the housing industry and caused waves of contractors to go bankrupt and lay-off construction workers, the population of skilled builders has not yet rebounded.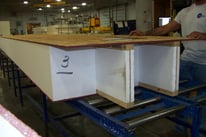 Communities in the United States need new housing, but the building industry isn't big enough to provide it. Builders are strapped and the supply of workers is short. It is time to utilize factory-built components like structural insulated panels.
How SIPs save labor:
Entire wall/roof assembly installs quickly and easily in sections
Openings and chases are precut at the factory
No sheathing or insulating on site
Uniform nailing surface for siding and trim
Fewer callbacks
Framing crews quickly learn SIP installation
Using SIPs can reduce framing needs by as much as 55 percent. Enercept offers the most fully customized SIPs on the market, making our structural insulated panels easier to install with less on-site field work and fewer cuts.
Benefits of SIP Construction:
Faster construction—Structural insulated panels combine structural framing, insulation, and sheathing into one step. All Enercept window and door openings are factory built, complete with framing and headers. The fast enclosure system also extends your building season.
Less framing labor—Building with Enercept requires less on-site labor, saving you money. Enercept can also provide on-site technical training for builders new to SIP construction.
Less job site waste—The typical exterior framing waste of an Enercept home can be hauled off in a single 55 gallon container or pick-up bed instead of renting a roll-off container.
Fewer framing errors—SIPs reduce the margin for framing errors. Each panel is numbered to correspond with a computerized CAD panel blueprint. With the Enercept 4′-wide panel system, all rough openings are cut and framed at the factory, and include structural headers. Panels are built to the engineer's specs, taking the hassle and guesswork out of design and quality control on-site.
Labor Shortage
In its 2016-2017 U.S. talent shortage survey, the global staffing firm Manpower Group reported that skilled trade vacancies are the hardest jobs to fill in the country. And, according to the National Association of Home Builders, the construction industry has lost some 1.5 million workers. Hurricanes and other natural disasters have only added to the crisis.
Enercept supports the home building industry.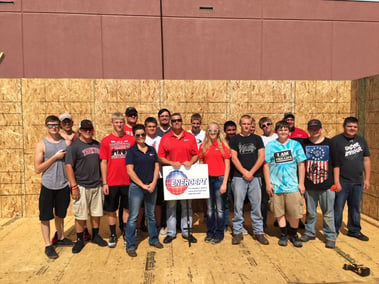 The perception among many young adults is that vocational jobs offer little or no career advancement or financial and job security. Enercept works closely with the Building Trades Department of Lake Area Technical Institute and high school vocational programs, providing hands on training and experience for future builders.
Teaching future builders about the benefits of SIP construction is crucial in solving the Nation's housing crisis. In doing so, we're teaching them to work smarter instead of harder, and helping them to be more productive in the home building business.
The future of framing is happening now. The future of framing is Enercept SIPs.