October is National Energy Awareness Month.
One short month to spread the word about the benefits of energy efficiency.
This year's Energy Awareness Month theme, A Sustainable Energy Future; Putting All the Pieces Together, encourages everyone to see how they fit into the big picture.
To promote this awareness, many groups and partners across the country will join together on October 5th for the first ever, nationwide, Energy Efficiency Day campaign. The aim of this social medial effort is to raise awareness among the public and media by organizing participants in sharing examples of the positive impact of energy efficient practices.
You can make a difference!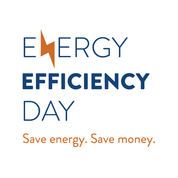 Join the celebration by sharing your energy efficient practices on Twitter, Facebook, Snap-chat or other social media. Include #EEDay2017 in your posts.
Here are some easy ways you can be more energy efficient:
replace incandescent light bulbs with compact fluorescent (CFLs) or light emitting diode (LED) light bulbs
shut off water while you brush your teeth
turn off lights in unoccupied rooms
unplug cell phone and other chargers when not in use
recycle paper, plastic, cans and glass
turn down your thermostat in the winter and turn it up in the summer
clean the condenser coils on the back of your refrigerator and freezer
seal up an large air leaks around windows, doors, etc
replace your furnace/air conditioner filters
This Month
Collect your utility bills. Separate electricity and fuel bills. Target the largest energy consumer or the largest bill for energy conservation measures.
Insulate heating ducts in unheated areas, such as attics and crawlspaces. Keeping ducts in good repair can prevent heat loss of up to 60 percent at the registers.
Seal up the largest air leaks in your house—the ones that whistle on windy days, or feel drafty.
Schedule an energy audit (ask your utility company or state energy office) for more expert advice on your home as a whole.
But, don't stop there. Practice energy efficient habits all year long. Visit Energy.gov for more information
**These tips were taken from the Department of Energy and the ACEEE Consumer Guide to Home Energy Savings
Making small improvements to your everyday life could lead to years of benefits for you, your family and the world.