When building a new home, there are so many factors to consider — lighting, fixtures, cabinetry — the list goes on and on. Another often overlooked consideration are the health and wellness benefits of your home. Even the best housekeepers are unable to fend off all the pollutants in a home. But SIPs can be a powerful weapon against contaminants.
The introduction of outdoor air is one important factor in promoting good air quality. Air may enter a home in several different ways, including:
Natural ventilation, such as through open windows and doors
Mechanical means, such as through outdoor air intakes associated with the heating, ventilation and air conditioning (HVAC) system
Infiltration, which is when unfiltered outdoor air flows into the house through openings, joints and cracks in walls, floors and ceilings, and around windows and doors.
Infiltration is the culprit which can be almost eliminated. To some extent, infiltration occurs in all homes. But the amount of pollutants — dust, sand, animal dander, pollen — is kept to a minimum in SIPs construction.
A properly constructed SIPs home is much tighter than its stick-built counterpart, particularly when it comes to keeping impurities out. Every joint and opening is sealed with mastic and/or sealing tape, and the entire structure is wrapped in Tyvek. Creating this ultra-tight building envelope helps ensure not only energy efficiency, but a house that is almost impenetrable by environmental irritants, especially in areas with significant amounts of dust, dirt and pollen. Wind can increase the amount of infiltration, so SIPs are an excellent choice for sites exposed to gusty conditions.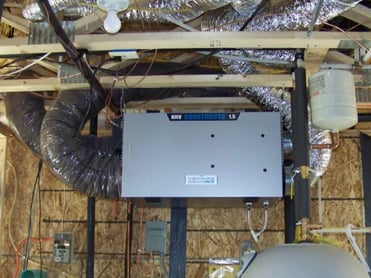 So, choosing a tightly built SIPs house is the right choice for keeping the great outdoors from permeating your indoor environment. However, you don't want a house that's too tight. Without proper air movement, it may become stuffy, or worse, a breeding ground for unhealthy pollutants. An air exchanger is the best defense for this and a required partner in maintaining healthy indoor air quality.
This part of your HVAC system circulates the air and helps keep indoor pollutants (dust, pet hair, dander) from aggravating allergy symptoms and respiratory problems.
Senior Regional Sales Manager Neal Mack recalls a family who built a home in arid western South Dakota many years ago.
"Their daughter had breathing issues. The mom and daughter ran into me at our booth at the state fair and told me the daughter called their Enercept home her 'safe house,'" Mack says.
Jim and Joyce Cillesen built a mountain retreat using SIPs. They don't live in the house full time, but use the home for holiday gatherings, and the couple also heads there for about a week each month.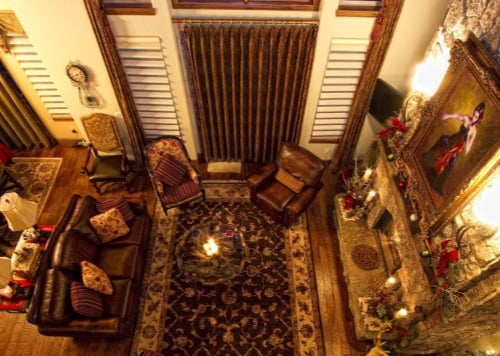 Citing the house's tight building envelope, the homeowners marvel at how little dust there is inside even when they've been gone for a few weeks.
The air exchanger also reduces home's carbon dioxide levels and expels germs which can be locked in stale air. And there's little worry about nasty smells. Odors from cooking, smoking or using strong-smelling cleaning products are reduced as well.
Some air exchangers also help control the humidity in your home, adding to your comfort as well as preventing mold growth and other potential damage in excessively humid climates.
SIPs construction is a powerful weapon against infiltration and helps maintain the best indoor air quality possible. Remember, a healthy home is a happy one. Make the best choice for your family's health.
Our Mission: Our Commitment
When you build with Enercept SIPs we provide a building that will go up faster and will be warmer, tighter, stronger, quieter and more cost-effective than conventional construction. It is a commitment that others simply can't beat!